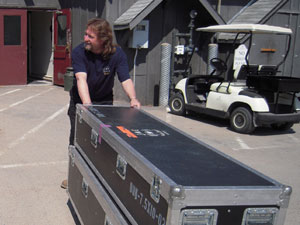 Your Best Choice in Audio & Visual
For Professional Assistance, Onsite Technicians, and the Expertise to show case your events.
Providing Muskoka and surrounding areas in Ontario with the technology and tools to display stunning presentations for your events, charities or conference meetings. Our Audio and Visual Company has been creating a successful service showing off events and trade shows since 1998.
J & E Audio Visual offers a wide array of presentation and audio visual strategies across Ontario. In working together with our clients, we establish the right combination of equipment and services that will best communicate your message.
Our experience in all aspects of large and small scale events allows you the time to focus on your clients. From set-up to striking we will have your event up and running smoothly, on time and within your budget.
J & E Audio Visual, trusted technical supplier of the following companies;
Muskoka and Haliburton Delta hotels and resorts full testimonial
M.A.S.H.A - Mines & Aggregates Safety & Health Association
OACFDC - Ontario Association of Community Futures Development Corporations Inc.
FEDNOR – Sudbury full testimonial
Reach for the Rainbow - National Charity Organization
Huntsville Dragon Boat Races
Hidden Valley (HV)
Holiday Inn - Sudbury