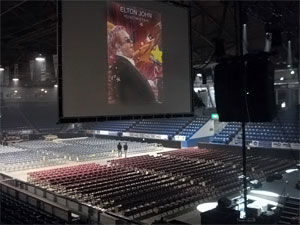 Testimonials;
Focusing on our Clients.
Many meeting planners, event managers, and corporate communication professionals take our dedicated team with them wherever they go because they trust us. We attribute our success to the quality of the equipment we provide and to the exceptional level of personal service we offer.

Delta Grandview Resort

" I just spoke with Donovan by Design who planned the Weekenders meeting the beginning of June. A fantastic time! The Weekenders go on many meetings and said that this was the best ever. They loved the accommodation and the layout of the resort, they loved the meeting space, food, service, Elvin mentioned it was delightful to work with Neil and Douglas the audio man from J & E was the best AV guy they have worked with (coming from the president). They are planning to return to Grandview and Donovan and I will keep in touch! Thanks again for everyone's hard work and efforts. "

Tammy M.E. Evers
Group Sales Manager
Delta Grandview Resort

Kraft General Foods

" The first night we met you following the "Sing" show on May 7th, we had no idea how important you would be to contributing to the success of our Award of Regional Distinction meeting. And contribute you did! We still marvel at how a man can operate 24 hours a day, 5 days a week without sleep and then still enjoy a Jack Daniels! Seriously, you did an outstanding job. The music, the lighting effects, the concussion, they blew our people away! Our sincere thanks! We look forward to another opportunity to work with you and your team again. "


Sincerely
Kraft General Foods Canada, Inc.


Sherry Kane
Manager, Sales Productivity & Development

Rob Lafferty
Sales Communications Associate


Northeastern Ontario Medical Education Corporation

" The NOMEC Board of Directors extends its thanks to J & E Audio Visual for its generous donation towards the academic rounds event for the Northeastern Ontario Family Medicine (NOFM) Program held on your community on August 25th and 26th.Our partnership with J & E Audio Visual is essential for making initiatives aimed at physician recruitment and retention a success. The NOFM Program has graduated 165 family medicine, 45 family medicine-emergency and 9 family medicine-anesthesia practitioners over the past 13 years. Close to 70% of these graduates are currently practicing in Northern Ontario; 40% of these have become clinical teachers for our program. Again, thank you! "

Sincerely,
Miriam McDonald
CEO


Burris, Neiman & Associates

" On behalf of Burris, Neiman & Associates I would like to take this opportunity to thank you very much for your assistance in making the AORD weekend the great success it was. "Fauluka", what can we say – you were truly a legend. The time and effect that both you and Charles put into the weekend was greatly appreciated and definitely above the call of duty. We do indeed look forward to working with you again in the very near future. All the best. Hope to see you again soon. "

Kind regards,
Susan Craig
Special Events Co-ordinator

Money Mart

" Our recent Operations Meeting at Pinestone Golf & Conference Resort was a terrific success and I want to thank you for the extra time you took to ensure that all of our audio-visual needs were met. I especially want to thank you for your patience when, as always, minor 'technical difficulties' and my own inexperience presented a few 'challenges' during our 3 days at Pinestone! Thanks for resolving all of our mini-crises! And thanks, Jamie, for remaining flexible when we changed our schedule on short notice and delayed your set-up time on the Monday night. It was a pleasure meeting you Jamie. Thank you again for contributing to the overall success of National Money Mart's 1999 Operations Conference. "

Sincerely,
Vicky Vernile

General Mills

" Everything went very well, I've received a number of positive comments about the AV set up and the service we received. If future opportunities arise your company will be on the top of the list to call. "

Bryant Johnson - General Mills


Donovan By Design

" Hi Jamie, Thank you for the invoice, I will action it right away. Please let Doug know that Lia Keeping (President of Weekender's) commented to me that he was the best AV person she has ever worked with and believe me she has worked with quite a few. So combined with that experience and the group loving the accommodation setup at the Delta Grandview I would think we will be working together again in the future. Say Hello to Doug for me and thank him again for the great work and bring a sense of calmness to a room full of 'high energy' women. "

Elvin Duncan
Donovan By Design

FedNor

" I have worked with J&E Audio on many occasions as well as directed a number of very satisfied clients to their services. J&E Audio provides an impressive and vast array of audio/video components and staging equipment to handle the needs of virtually any sized conference or entertainment event. The added bonus is the expertise of J&E Audio's polite and professional technical staff which ensures a smooth running and successful production. "

Peter Williams
Senior Communications Advisor
Industry Canada - FedNor

MASHA

" J&E Audio Visual has been working with us for several years on our annual conference and Provincial Mine Rescue Competition. They are flexible and totally reliable. The staff work hard ahead of time to understand our needs, and at the event, they bend over backwards to make sure everything runs smoothly. Switching to J&E for our big events was one of the smartest decisions we've made! "

James Johnstone
Information Technology Coordinator
MASHA - Mines & Aggregates Safety & Health Association